As usual, Im doing the most trying to 'reinvent' my look....
Which is a totally struggle,considering I wear black 10months out of the year.....
I know,I shouldn't be that way considering I studied fashion,do visual merchandising,and not afraid to style bold looks...
I just don't do well with change, hence why the next few weeks are going to be a struggle(but that's a story for another blog)
I'm trying new hair colors
I'm still using Lace Xclusive hair( s/o to www.lacexclusive.com),but now I have introduced SPLAT and ADORE color into my life......
I'm teaching myself new tricks
I have a friend who can literally watch a YT video and learn to do ANYTHING in probably less time then the video actually took to make.So I have been rescently taking classes a YouTube University and have learned to color virgin hair,make clip in hair extensions, and soon make lipstick out of crayons!
Bolder lipsticks.....
My current favorites are Harlem Knights from Kaoir, Heroine and HauteCore from MAC.
Which reminds me I need to hurry up and get SNOB and CANDY YUM YUM as well?
Now for clothing,I am actually taking my time due to a career change(a story for another blog),I am on the prowl for a complete new wardrobe but...
You knew there was a 'but'...
I am looking to break out of my normal stomping grounds (Torrid,Lane Bryant,etc),because I have gotten bored. So I have searched high and low on instagram,Youtube,luvocracy,etsy,etc to complile my list of a few of my 'Spring 2014 Must Haves'
You ready?
I love this tutu! I appreciate the lining under it which makes it less 'costumey'
I haven't worn a body suit since 1993,but this tribal print is really doing something for me..
AND its coming from a store I NEVER go to,I wonder what else I been missing?
Voyager Doll Bodysuit from Forever 21
$9.80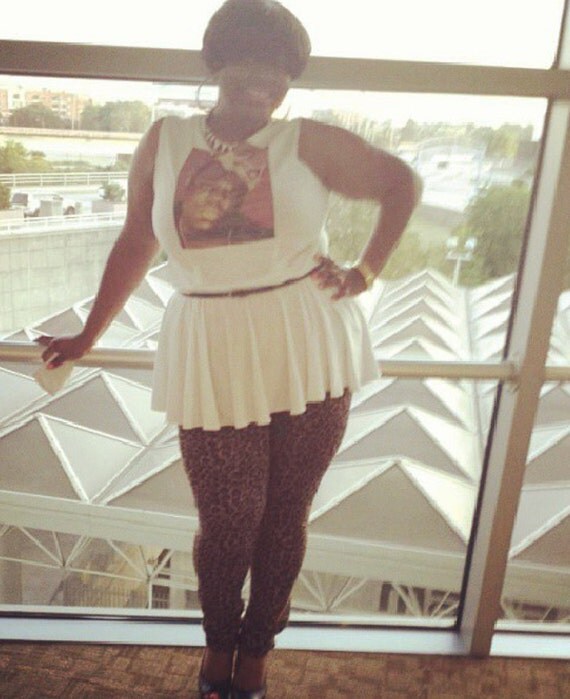 Any time BIG is on a plus size shirt,I want all parts of it. I typically do not wear peplums because they were never quite my thing but I may have to break on this one.
JIBRI Plus Size Biggie Peplum tshirt from JIBRI
$70
I don't even like baseball! But I think this is super cute,with a big bag and a wedge sneaker,no?
$48
I'm always open to suggestions on sites,designers,etc so give me the deets!
Cis4cookii@gmail.com
Subject- Spring into style.