So as some of you may know,I am the current regining Miss Cleveland Ohio Plus America 2010(whew!say that 3times fast),in May I will be competing for Miss Ohio Plus America 2010 ,and then I hope to go on to compete for Miss Plus America 2010 in July.....
Sounds fabu doesnt it?
Well Im on a dress hunt.....
Here are some of the samples that I have kind of liked....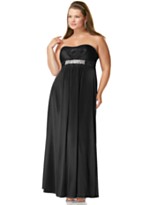 Ruby Rox,$99;Macys.com
JS Boutique,$198;Nordstrom.com
Torrid,?;Torrid.com