One thing Ive always hated as a preteen before summer was swimsuit shopping for summer camp....The thought of the locker room,boys looking at me in my suit,nasty water screwing up my hair,just made me want to.....

*gag*,but I digress...

Now as an adult,I can shop freely for myself but part of me hates to see women at the pool,beach,etc with tshirts on over their swimsuits,if you have curves,a big butt,large thighs,BE PROUD or don't swim!I mean honestly why put yourself through the stress of purchasing something that is going to make or break your ego for the next 3months if your going to cover it up?

A sports bra,tshirt and bball shorts are so much cheaper and alot less stressful.

I remember one time i went to the beach,a woman who was shapely as I was yet smaller walked up to me,wearing a tshirt,over her swim suit and told me she admired how bold I was to walk around in just my swimsuit.....

I stared at her and said,'why wouldnt i?my body is beautiful,and so is yours....'

I smiled,returned to my beach activites with my family,and saw the woman go back to her towel...Out the corner of my eye I saw her take off the worn family reunion tshirt to revel an amazing swimsuit,and a cute shape!


*Warning* I know my choices are slightly pricey,but you get what you pay for.
Old Navy,$49.50;OldNavy.com#Fact
I love 50's Pin Up style suits,they tend to be flattering around the tummy too!
Old Navy,$49.50;OldNavy.com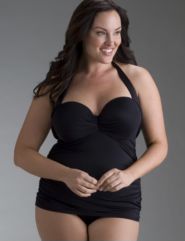 Lane Bryant,$99;LaneBryant.com
I think I am feeling this one because it reminds me of Beyonce?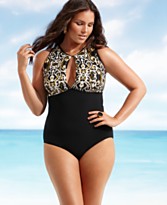 Profile by Gottex,$128;Macys.com
#fyi Im a firm believer that you dont wear skirted suits when you are under 30...
This thing looks like a night gown gone all wrong...
Torrid,$78;Torrid.com

Come on torrid....You can do better